Events
Brown Bag Talk: Dr. Andrea Parker presents "Transforming the Health of Communities through Innovations in Social Computing"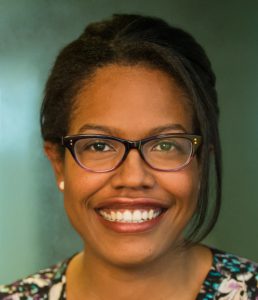 Dr. Andrea Parker
Transforming the Health of Communities through Innovations in Social Computing
March 30, 2023, 12:30pm ET

Abstract: Digital health research—the investigation of how technology can be designed to support wellbeing—has exploded in recent years. Much of this innovation has stemmed from advances in the fields of human-computer interaction and artificial intelligence. A growing segment of this work is examining how information and communication technologies (ICTs) can be used to achieve health equity, that is, fair opportunities for all people to live a healthy life. Such advances are sorely needed, as there exist large disparities in morbidity and mortality across population groups. These disparities are due in large part to social determinants of health, that is, social, physical, and economic conditions that disproportionately inhibit wellbeing in populations such as low-socioeconomic status and racial and ethnic minority groups.
Despite years of digital health research and commercial innovation, profound health disparities persist. In this talk, I will argue that to reduce health disparities, ICTs must address social determinants of health. Intelligent interfaces have much to offer in this regard, and yet their affordances—such as the ability to deliver personalized health interventions—can also act as pitfalls. For example, a focus on personalized health interventions can lead to the design of interfaces that help individuals engage in behavioral change. While such innovations are important, to achieve health equity there is also a need for complimentary systems that address social relationships. Social ties are a crucial point of focus for digital health research as they can provide meaningful supports for positive health, especially in populations that disproportionately experience barriers to wellbeing. 
I will offer a vision for digital health equity research in which interactive and intelligent systems are designed to help people build, enrich, and engage social relationships that support wellbeing. By expanding the focus from individual to social change, there is tremendous opportunity to create disruptive interventions that catalyze and sustain population health improvements.
Bio: Andrea Grimes Parker is an Associate Professor in the School of Interactive Computing at Georgia Tech. She is also an Adjunct Associate Professor in the Rollins School of Public Health at Emory University and at Morehouse School of Medicine. Dr. Parker holds a Ph.D. in Human-Centered Computing from Georgia Tech and a B.S. in Computer Science from Northeastern University. She is the founder and director of the Wellness Technology Lab at Georgia Tech. Her interdisciplinary research spans the domains of human-computer interaction and public health, as she examines how social and interactive computing systems can be designed to address health inequities.
Dr. Parker has published widely in the space of digital health equity and received several best paper honorable mention awards for her research. Her research has been funded through awards from the National Science Foundation, the National Institutes of Health, the Aetna Foundation, Google, and Johnson & Johnson. Additionally, she is a recipient of the 2020 Georgia Clinical & Translational Science Alliance Team Science Award. Dr. Parker has held various leadership roles, including serving as co-chair for Workgroup on Interactive Systems in Healthcare (WISH) and as a member of the Johnson & Johnson / Morehouse School of Medicine Georgia Maternal Health Research for Action Steering Committee.
Join us in the lab or on Zoom (register here).